In my 12th year of teaching, I continue to be amazed at the misconceptions surrounding multi-digit subtraction. In my experience, students who are masters at memorizing the steps of the US standard algorithm are quite successful, though have little understanding of the place value. Why do we borrow? What does that even mean?
In an effort to do a much better job this year, I am trying a new strategy. Given the problem:
634 – 368 = z
I am requiring my students to write out each number in expanded form:
634 = 600 + 30 + 4
368 = 300 + 60 + 8
The language that I am using with this strategy is intentional. Since we cannot take 8 from 4, we need to borrow a ten, thus changing the 30 to a 20 and changing the 4 to a 14. I am stressing with students that this is the same value:
600 + 30 + 4 = 600 + 20 + 14
This alone is mind-blowing!
So now, if we finish the problem, it looks like: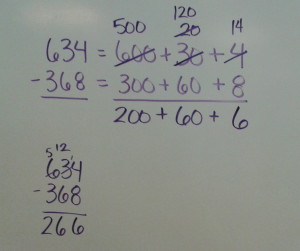 The power in this language is that now, rather than saying: "What is 12 – 6? " I am now saying, "What is 120-60?" My hope is that by changing the way I speak, I am deepening students' understanding of place value, and how we talk about it. The best part of this is that when I revert to my old ways (which I do), students immediately correct me by saying,  "Excuse me, Mrs. Nied, but that is not 12-6–it is 120-60."  Students have completely taken over this language and I am hearing it constantly in group discussions. Woo hoo!